About Us
Tennessee Grill Chicken and Pizza is a Chicken takeaway in Birmingham. Why don't you try our Meal 1 or Family Bucket?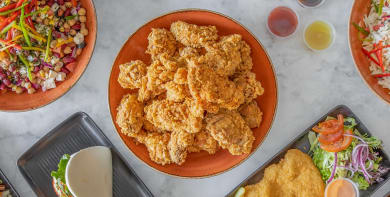 Reviews
227 reviews
Sun
"excellent all round..proper chips and fresh and hot. def buy again . cheers"
31/07/2020
Gavin
"Top food fast service highly recommended"
20/07/2020
Mrs
"Late but well worth the wait"
06/07/2020
Davia
"Excellent thanks"
05/07/2020
Menu
Pizza Meal For 2
Any 12 inch Pizza* 
Including Fries + 2 Drinks
*Tennessee Special Pizza not included
£10.00
Meal For 4
Any 2 x 12 inch Pizza*
Including Fries + 2 Drink
£15.00
Tennessee Recipe Chicken 1pc
£1.20
Tennessee Recipe Chicken 2pcs
£2.30
Tennessee Recipe Chicken 3pcs
£3.50
Spicy Strips ( & Dip ) 3pcs
£2.50
Spicy Strips ( & Dip ) 5pcs
£3.80
Ferrero Rochler Milkshake
£2.99
Steak Burger Meal
Steak burger with fries and drink
£2.79
1 Piece Kids Meal
1 Tender piece of chicken in our secret Tennessee
recipe coating, fries & a drink
£2.79
4 Nuggets Kids Meal
4 Chicken nuggets with fries & a drink
£2.79
Chicken Supreme
Chicken Fillet or Spicy Sizzler with hash brown, cheese, lettuce and mayo
£2.79
Spicy Strip Burger
2 Chicken strips, lettuce and mayo
£2.49
Chicken Fillet / Spicy Sizzler
£2.49
Grilled Burger (Gourmet Beef / Chicken / Strip)
£3.20
Grilled Chicken Tower Burger
£3.99
Tango
Orange, Apple or Cherry
£0.80
Jamaican Soda
Pineapple or Black grape
£0.80
Meal 1
Whole breast fillet in 
Tennessee see recipe Or spicy
sizzler coating with 
lettuce, mayo, fries & a can of soft drink
£3.69
Meal 2
Tennessee fillet OR spicy
sizzler burger with 
cheese, hash brown,
lettuce, mayo, fries & a
can of soft drink
£3.99
Meal 3
Burger stacked with 2
chicken strips burger,
lettuce, mayo, cheese
fries & a can of soft
drink
£3.69
Meal 4 2pcs
Tender pieces of
chicken in our secret
Tennessee recipe
coating, fries & a can
of soft drink
£3.69
Meal 4 3pcs
Tender pieces of
chicken in our secret
Tennessee recipe
coating, fries & a can
of soft drink
£4.49
Meal 5 2pcs
2 or 3 Tennesse recipe
chicken pieces + 2 wings,
£3.99
Meal 5 3pcs
2 or 3 Tennesse recipe
chicken pieces + 2 wings,
£4.99
Meal 5 2pcs
2 or 3 Tennesse recipe
chicken pieces + 2 wings,
£3.99
Meal 5 3pcs
2 or 3 Tennesse recipe
chicken pieces + 2 wings,
£4.99
Meal 6 Chicken Bites Regular
£3.49
Meal 6 Chicken Bites Large
£4.49
Meal 7 Chicken Strips 3pcs
Strips of tender chicken in
a spicy coating, fries & a
can of soft drink
£3.69
Meal 7 Chicken Strips 5pcs
Strips of tender chicken in
a spicy coating, fries & a
can of soft drink
£4.99
Meal 8 Chicken Wings 3pcs
Spicy chicken wings, fries
and a can of soft drink
£2.49
Meal 8 Chicken Wings 5pcs
Spicy chicken wings, fries
and a can of soft drink
£2.99
Meal 9
Tortilla wrap stacked 
with 3 spicy chicken
strips, lettuce, mayo,
fries and a can of soft drink
£3.99
Meal 10 3pcs
BBQ Chicken Wings,
Fries and a can of soft
drink
£2.49
Meal 10 5pcs
BBQ Chicken Wings,
Fries and a can of soft
drink
£3.49
Party Bucket
6 Tennessee recipe chicken pieces
3 Regular Fries
1 Regular Side
£9.99
Family Bucket
8 Tennessee recipe chicken pieces
4 Regular Fries
2 Regular Sides
6 Spicy Wings / 3 Spicy Strips
£12.49
The Tower Burger Meal
Taste the Difference
1 Fillet Burger with 2 Chicken Strip
lettuce, mayo, fries and a soft drink
£4.49
Boneless Bucket
8 Chicken Strips
Large Popcorn Chicken
3 Regular Fries
Regular
£12.49
Margherita
Cheese & Tomato
£7.99
Vegetarian Supreme
Onion, Peppers, Mushroom, Olives, Cheese And Tomato
£7.99
Vegeterian Hot
Onion, Peppers, Chilli, Jalapeno And Sweetcorn
£7.99
Chicken Supreme
Chicken, Mushroom And Sweetcorn
£7.99
Chicken Tandoori
Tandoori Chicken, Peppers, Onion And Sweetcorn
£7.99
Pepperoni
Slices Of Pepperoni
£7.99
Meat Feast
Bolognese, Turkey Ham, Pepperoni And Beef
£8.99
Seafood Special
Tuna & Prawn
£8.99
Bolognese Supreme
Bolognese, Onion, Peppers And Chilli
£8.99
Tennessee Special
Tandoori Chicken, Bolognese, Pepper, Onion, Chilli And Sweetcorn
£9.99
Contact Us
Find Us
5 Timberley Lane, Birmingham, B347ED
We deliver to
B33, B34, B35, B36, B37